♥♥♥ 5 Fantastic Stars ♥♥♥



● ● ● ● ● ● ● ● ● ● ● ● ● ● ● ● ● ●

'Just as it takes more strength to kneel before another than to stand beside them, it takes more self-awareness and humility to know what one can't control in order to avoid losing control altogether.'

● ● ● ● ● ● ● ● ● ● ● ● ● ● ● ● ● ●

Aww...that ending, was so sweet. This whole book awesome. It was definitely a lot better than the first, as many had told me. I just loved it!




I could not wait to start on this book, especially when I fell hard for the two main characters in the last book. I was able to get into this one pretty quick. The mystery had me intrigued from the start, and was able to keep my interest all the way through. Something the first book did not do. So I was completely entertained by all the events that took place.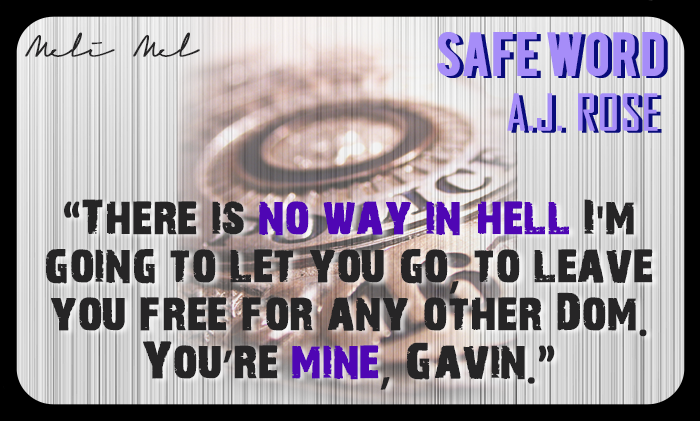 I really liked Gavin so much more in this book. He and Ben went through some very tough and terrible things in the last book. In this book, Gavin is trying to move on from those traumatic events. I loved his determination to get better. I also loved seeing another side of Gavin, where he was the one supporting Ben. I loved that so much. Gavin had his moments where is fears got the better of him, but he had Ben and Myah, who is the best partner anyone could have. I was really happy about that.


● ● ● ● ● ● ● ● ● ● ● ● ● ● ● ● ● ●

'My Ben. My strength. My heart.'

● ● ● ● ● ● ● ● ● ● ● ● ● ● ● ● ● ●

Ben, I still very much LOVED!! Ben seemed to be moving on with his life a lot easier than Ben was, but that was wrong. He was keeping it all inside himself, so I loved the fact that Gavin was there to challenge him and take care of him. With Ben, we were also shown a different side to him, a side that was more vulnerable. Those moments were the ones that tugged at my heart strings a bit. Ben is so selfless in the way he cares for Gavin that you can't help but fall in love with him. He is truly the best.


● ● ● ● ● ● ● ● ● ● ● ● ● ● ● ● ● ●

'I looked forward to a whole lifetime of tomorrows. As long as I had Ben.'

● ● ● ● ● ● ● ● ● ● ● ● ● ● ● ● ● ●

The suspense story line definitely did improve from the first book. The writing was stil really good, and I think there was a good balance going on between the romantic story line and the suspense one. I also liked that it had a good balance of serious, sad, and happy moments. I seriously love Myah so much. She is so awesome, tough, and supportive. And Gavin's brother Cole is pretty awesome as well. There were some HOT scenes in this one, just like in the first. There were also moments that melted my heart into goo. The ending was perfect. It left me with a warm feeling and the biggest smile ever. I can't wait to read the third book.





View all my reviews