♥♥♥ 4 STARS ♥♥♥



● ● ● ● ● ● ● ● ● ● ● ● ● ● ● ● ● ●

'Everything she loved, I hated. Everything that frightened her, I loved. How's that for f*cked up?'

● ● ● ● ● ● ● ● ● ● ● ● ● ● ● ● ● ●

I was so excited to start this one, since I loved Surviving Raine so much. And this one was very good as well. I love that this was still entirely in Bastian's POV. That is what I loved the most about the first book and we get it here too. As soon as I started reading, I starting falling for Bastian all over again and forgot how much I really loved him.




This book is about seeing Sebastian back in the real world of Miami, with Raine. He doesn't seem to be adjusting very well, in fact, he desires to be back on the island where he can have Raine all to himself. Living in civilization is hard for Bastian, he struggles to socialize and live a 'normal' life with all of it's conveniences. He's also suffering from nightmares that won't let him sleep. All of this causes him to want to reach for a drink...or two.




I felt bad for the way Bastian felt in this one. He seemed to not be able to fit anywhere. But, I did get mad at him a few times with how much of a jackass he acted. He was at times selfish and mean. Then I couldn't help but love him again for being the sexy, dirty mouthed alpha that I know and love. However, I also loved seeing him grow into a better man.


● ● ● ● ● ● ● ● ● ● ● ● ● ● ● ● ● ●

'She was my drink--the only one I would ever want again'

● ● ● ● ● ● ● ● ● ● ● ● ● ● ● ● ● ●

After being in the island, Raine seems to have developed a fear of beaches. She tries to stay away from them at all costs. She doesn't want to be reminded about the island. She just wants to go to school, hang out with friends and live a normal life. She is also trying to be supportive of Bastian, so that he doesn't go back to booze.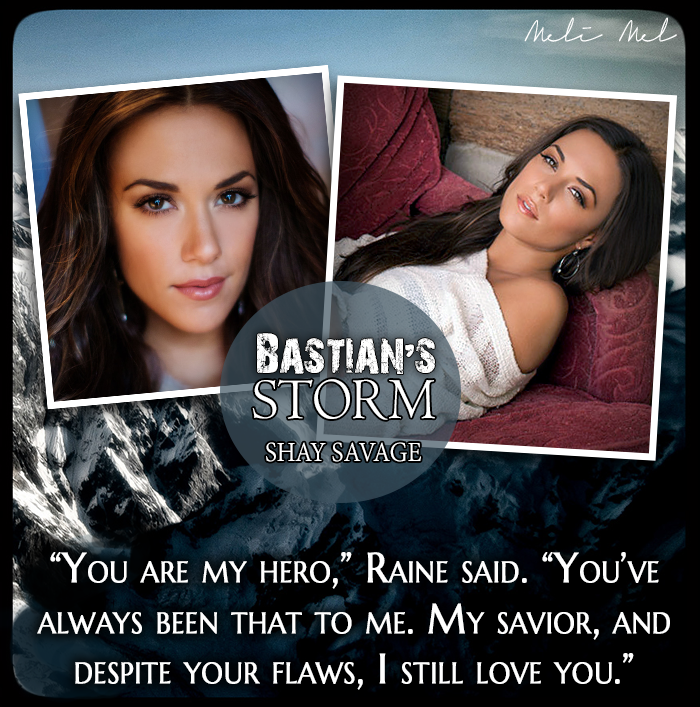 I still have a few times where I don't completely understand Raine. But I do feel like she tried to do her best in helping Bastian come out of his shell a bit in front of others than just herself. I think they were both selfish in their own ways, but it somehow ended up helping each other.


● ● ● ● ● ● ● ● ● ● ● ● ● ● ● ● ● ●

"You are incredible," Raine responded. "You are everything I have ever wanted."

● ● ● ● ● ● ● ● ● ● ● ● ● ● ● ● ● ●

While the first half was a bit on the slow side for me, I absolutely loved the second part. Landon comes back and needs Bastian to fight again. It a competition of six people that are left on a mountain to kill each other off until on person is standing. It was intense and crazy and so freaking entertaining. I'm not going to give any more on the story but that. It was really good.


● ● ● ● ● ● ● ● ● ● ● ● ● ● ● ● ● ●

"Might I not then say, 'Now I love you best,'
When I was certain o'er incertainty,
Crowning present doubting of the rest?
Love is a babe, then might I not say so,
To give full growth to that which still doth grow?"

● ● ● ● ● ● ● ● ● ● ● ● ● ● ● ● ● ●

The ending was the best!! My heart was so freaking happy at that conclusion. I really enjoyed this book a lot, maybe not as much as I did the first, but it was still so great. There were such sweet moments, hot steam, and funny moments as well. There was action with the tournament that was very enjoyable. Overall, it was a really great read. Now, I'm going to have to read Evan Arden's books because I am so curious about him after having him appear in this book.




View all my reviews