♥♥♥ 4.75 Stars ♥♥♥



● ● ● ● ● ● ● ● ● ● ● ● ● ● ● ● ● ●

"No way in hell I'm letting you go this time," he whispered.

● ● ● ● ● ● ● ● ● ● ● ● ● ● ● ● ● ●

I freaking loved this book. And Nathan....*Sigh*. Just fantastic. This series just keeps getting better and better. I can't wait for the next book!!




If you have read the previous books, you know that Nathan and Audrey seemed to have had a rocky past with a very not good break up. Well, now Nate is on his search to find her, and find her he does. She may be the only key he has to save his brother and himself. Of course he is still very hurt because of her betrayal, but not everything that happened in their past is what it seems. No matter how hard he tries to continue hating her, lust prevails and old feelings resurface.



● ● ● ● ● ● ● ● ● ● ● ● ● ● ● ● ● ●

"One night, Nate. Just us. You, me, and now. No past, no future."

● ● ● ● ● ● ● ● ● ● ● ● ● ● ● ● ● ●

Audrey...what an amazing female characters. She had a softness and strength about her that I really freaking liked. She was no weakling needing to always be saved. I loved that she was right there along with the Dean brothers, risking her life for all of their safety. She was pretty damn awesome. She was independent, feisty and kind. And, I loved the way she was with Nate. She owned her sexuality and gave as much as she got. I loved how deeply she loved and the lengths she would go to protect those she cared for. I'm surprised but glad by what a good hearted person she was with her mother being batshit crazy and all.


● ● ● ● ● ● ● ● ● ● ● ● ● ● ● ● ● ●

'He was an experiment created in a test tube, maybe without a soul, perhaps without any hope. But for a brief time, with this woman, he'd felt whole. Real. Good. Even if they just had the night, he wanted that feeling again.'

● ● ● ● ● ● ● ● ● ● ● ● ● ● ● ● ● ●

Nate was a smoking hot alpha male. He was strong, protective, and possessive. I loved him so freaking much!! He was definitely my favourite (I'm sorry to the other Dean brothers, because I really loved them too.). He had such a big heart and such a fierceness when it came to protecting his loved ones. I enjoyed reading the bits about his past that gave insight on how he was as a kid. His wanting to belong to family is what made me really love him and ache for what he didn't have in his childhood. Nate was also really kickass just like the other Dean brothers, which was very fun to read.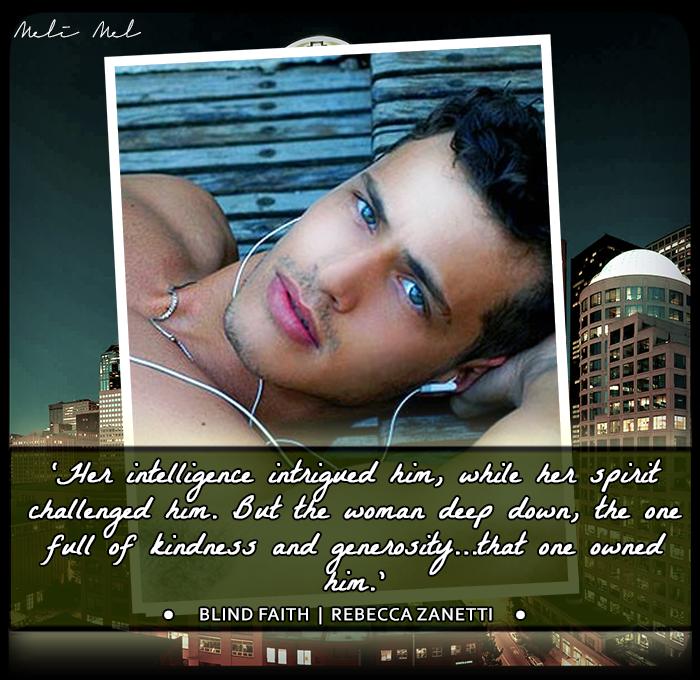 ● ● ● ● ● ● ● ● ● ● ● ● ● ● ● ● ● ●

'She'd never trade the few moments of true happiness she found with him--not for anything.'

● ● ● ● ● ● ● ● ● ● ● ● ● ● ● ● ● ●

The romance in this book was really great. I could feel the tension between the main characters and I loved every minute of it. There was some highly steamy scenes in this book, but there was also some that were sweet that it melted my heart. I even enjoyed some of the funny banter going on. And having all of the Dean brothers in the same room...Holy Hottness!!



● ● ● ● ● ● ● ● ● ● ● ● ● ● ● ● ● ●

"I promise." Nate lowered his mouth to hers. "Forever."

● ● ● ● ● ● ● ● ● ● ● ● ● ● ● ● ● ●

I loved the writing. I loved the plot. Once I began reading, it was pretty hard for me to stop. Oh, the twist and turns had me shocked that I hadn't seen that coming. It was full of suspense and action. It was utterly entertaining to read it all. I still say that Rebecca Zanetti is one hell of writer when it comes to those action scenes. It's vivid enough that you can imagine all that is happening without it being too descriptive. I just plainly loved it. The only thing that I hate is the fact that I will have to wait until next year to read the next one. But other than that, you should definitely check this one out.