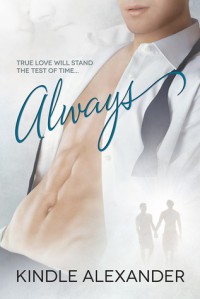 ♥♥♥5 Heart Achingly Beautiful Stars ♥♥♥





This book was really an amazing read. The journey I got to experience was so beautiful, but also caused me great pain. This book follows the lives of two men. Two men who fall in love and end up sharing their lives together. We get to see their highs and lows and even their middles. We see them fall in lust and love, experience loss and blessings. It was just truly a beautiful story.





The book starts off in the present, where we meet Avery and Kane for the first time. I didn't know anything about these men, but that didn't stop me from getting teary eyed for them. You could already feel the love that these two had for one another. Then the story goes back in time into the 1970's where Kane is retelling how he met Avery.




Avery Adams is working his way into becoming a Senator, just like his father. He is a confident wealthy gay man who goes after what he wants. He didn't seem too interested in any kind of relationship that lasts. He does one night stands, that is all he has the time for. But that all changes the moment he goes into the restaurant La Bella Luna and meets the restaurant owner, Kane Dalton. Avery has never felt so drawn to another person in his entire life. He doesn't know Kane but already he knows that Kane is his and was meant to be his. The wooing quickly begins and he won't quit until Kane says yes. They were opposites in most ways but together, they just worked beautifully.


● ● ● ● ● ● ● ● ● ● ● ● ● ● ● ● ● ●

"Make no mistake, I will romance you, Kane Dalton, just not now. Right now, I need to fuck you. Fuck you hard, and soft, and then do it all over again"

● ● ● ● ● ● ● ● ● ● ● ● ● ● ● ● ● ●

Kane Dalton comes from a family with Christian beliefs. His father was a pastor, so his coming out experience was not a great one. He gets kicked out of home with nothing to his name and becomes estranged from his family. Kane still practices what he has learned from his childhood and believes in their moral code. Because of this, sometimes Avery and Kane didn't see eye to eye all the time. But they made it work. Kane falls hard for Avery, even though he was reluctant to. Avery shows him that loving each other is not wrong. Kane was a bit on the shy side and sweet, but that didn't mean he didn't voice his opinions. Be was strong in a quiet way and loved whole heartedly. He was perfect for Avery.




Boy, did Avery make me melt and swoon hard. He was a romantic and just so freaking sweet. I loved the man. I loved the way Avery treated Kane and how he cared and protected him, and vice versa. I loved how hard Avery worked to get Kane. I'm not at all surprised how Kane fell for Avery, because he can be very persuasive. I loved seeing this couple grow and learn each other inside and out. They become strong as a couple, especially during a time where they weren't accepted. Avery wasn't afraid to show his love for Kane out in the open. Kane wasn't as confident about showing their relationship to the world. With Avery becoming a Senator, their lives became more exposed and the media loved every moment of it. It was hard on Kane but he wasn't going to stop loving Avery because of the comments.


● ● ● ● ● ● ● ● ● ● ● ● ● ● ● ● ● ●

"You're my other half, my soul mate destined to with me through eternity. You're my always and forever."

● ● ● ● ● ● ● ● ● ● ● ● ● ● ● ● ● ●

As the years go by, more roadblocks appear. There were moments where they thought they wouldn't make it, but in the end they would make it work. Because they were each other's lives and they didn't want to give each other up. They also get great blessings and have many moments of joy and happiness. They were lucky to be surrounded by people that loved and supported them. They all made one big unconventional family, but a family nonetheless. I loved it and the secondary characters.




This was my first Kindle Alexander book and I am glad I decided to read it because it has become a favourite of mine. It was very well written, and the story grabbed me not wanting to let go. I fell in love with both Avery and Kane, and the long lasting romance they had. There were some really steamy moments that helped show the unbreakable connection between them. The ending goes back to the present and it was very hard for me to read. This book made me cry so hard. Rivers and rivers of tears fell from eyes reading the last portion of the book. But it was all worth it. It was beautiful and heartfelt and I don't regret reading it. At. All. One of the best romance books I have read in a while. So, that should tell you that I think you definitely should read this one. I loved it and was happy with the conclusion. Just beautiful!