♥ ♥ ♥ 4 STARS ♥ ♥ ♥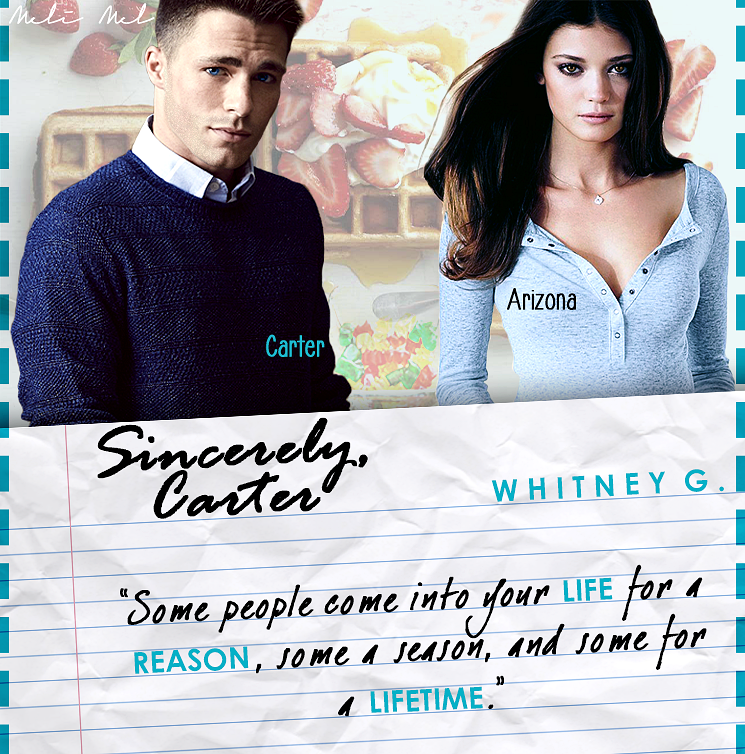 ● ● ● ● ● ● ● ● ● ● ● ● ● ● ● ● ● ●

"You're more than 'just' my best friend, and I never want to be 'just friends' again.
Sincerely (in love with you)
Carter"

● ● ● ● ● ● ● ● ● ● ● ● ● ● ● ● ● ●


This story was totally up my alley. I can't believe it took me this long to read it. It was a 'friends to lovers' story, which I am a big fan of. In this one Arizona and Carter have been best friends since fifth, I mean, fourth grade. They didn't really start off on the right foot, in fact they constantly picked on each other. But as they grew up, they became closer, and eventually into friends. They were their through all of their life experiences and not once did they ever see each other more than just friends. But one day, they seem to notice something about each other they never thought of before. And all of a sudden they are feeling an attraction for one another that they don't even dare to act upon. But when the tension becomes too much, they end up not having control and instead give in.



● ● ● ● ● ● ● ● ● ● ● ● ● ● ● ● ● ●

'I was pretty sure I loved him, and not in the way I loved him before. This was different. This was "I needed to have him every hour of the day," "be around him whenever I could", and "do whatever I could to have him" type of way. From the way he looked at me, I could tell he felt the same.'

● ● ● ● ● ● ● ● ● ● ● ● ● ● ● ● ● ●

First off, I really enjoyed the connection between these two. I loved their waffle rituals, and funny banter. You could just feel the chemistry between them. I really liked Arizona, just as much as I liked Carter. Except of course , Carter made me melt with his freaking sexiness. The sexual tension between them was crazy good. I loved it! And the steam was just awesome. There was a bit of drama and angst added to the story when Arizona gets a once in a lifetime chance to make her dreams come true in France. That would mean leaving Carter behind and being apart for a very long time. This part completely broke my heart. I was so frustrated with Carter, even though in part I did understand his reasoning. Things got a whole lot interesting as a result.



● ● ● ● ● ● ● ● ● ● ● ● ● ● ● ● ● ●

"I'm pretty sure it's been you since fourth grade, because now more than ever, I know that I'm supposed to be with you, and you're supposed to be with me. You belong to me, Ari, and you always will..."

● ● ● ● ● ● ● ● ● ● ● ● ● ● ● ● ● ●

This was one of those books that I just couldn't seem to put down. It was highly enjoyable to me. One thing that I really loved were the letters they shared throughout their lives. But the letters near the end of book where Carter opens up were definitely the best. I liked this book a lot but it wasn't without flaws. One thing that stood out to me the most was how they started looking at each other as not friends. It seemed to happen out of no where and about the same time. Just seemed a bit odd to me and a little too instantaneous. Other than that it was great. Loved the characters and I really liked the ending. It left you with a heartwarming feeling. If you like a good 'friends to lovers' love story, than you should definitely give this one a go.




View all my reviews