♥ ♥ ♥ 5 STARS ♥ ♥ ♥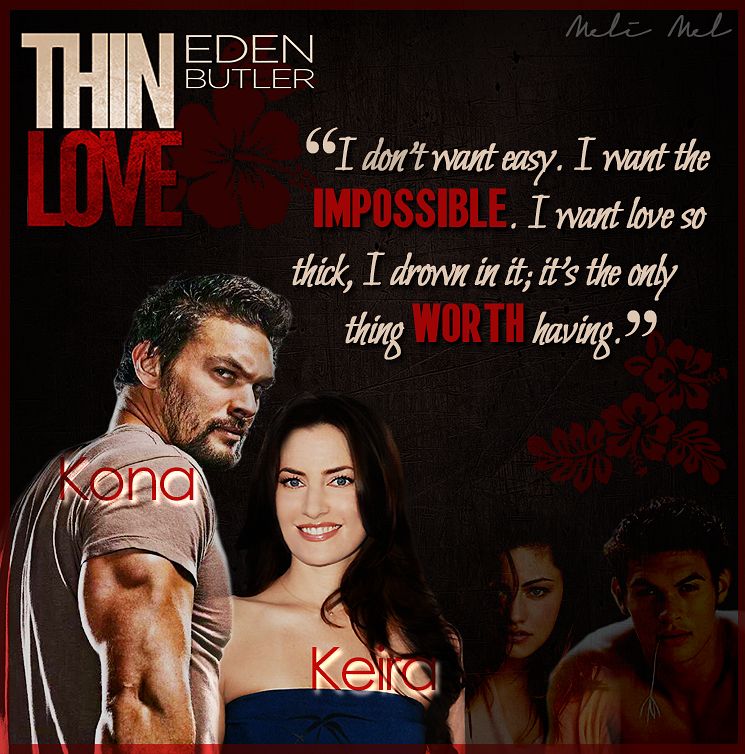 ● ● ● ● ● ● ● ● ● ● ● ● ● ● ● ● ● ●

"This is always, Wildcat. You...you're my always."

● ● ● ● ● ● ● ● ● ● ● ● ● ● ● ● ● ●



Kona Hale is a college football player working his way into the NFL. Unfortunately, his skills on the field aren't the only ones he is famous for. He is also known for his womanizing ways. When he is partnered with Keira for a project, he thinks he can charm her into doing what he wants but she is not easily swayed, in fact, it seems she can't stand him. Keira is trying to make it through her years of college without upsetting her mother too much, by appeasing her when needed. She is also still quite affected by the death of her father years back. The only way she has to connect with him is through music. She knows what Kona wants, and she doesn't want "thin love" which is only lust. She wants "thick love" that will last and she knows Kona can't give her that.

Kona is determined, no matter how selfish it may seem. When they finally get together it's dangerous and frenetic. They get consumed but what they feel and it can be a scary thing. Especially when they both have problems when it comes to dealing with their tempers. They are both broken by it. But this is also why they get each other so well. They push and pull each other, hurt and heal each other. They have become addicted to one another. Their relationship may not be a healthy one but they can't seem to stay away. That all changes by one event where Kona pushes her away for good and causes their hearts to shatter.



● ● ● ● ● ● ● ● ● ● ● ● ● ● ● ● ● ●

"I will haunt you, Kona. When you think of me, see my face, hear my name, you'll only remember that I loved you. You'll remember that my love for you was never thin. You'll remember this moment because it will be the biggest regret of your life."

● ● ● ● ● ● ● ● ● ● ● ● ● ● ● ● ● ●

Sixteen years later, fate brings them back together again. They still have strong feelings for each other after all these years. And this may be the chance Kona needs to make things right with Keira again.





This is one of those books where I ask myself 'why in the hell hadn't I read it before?', but I am so glad that I finally did. It was a page turner that's for sure. I didn't want to stop reading it, and when I did, I kept thinking about it. I was completely engrossed by this book. Oh, the angst...I keep telling myself I won't read books with too much angst but I guess I'm glutton for punishment because I keep doing it. I just can't help it. And this drove me completely off the wall with frustration. The relationship between Kona and Keira was an intense one. I would get so damn upset, and angry with them both. Then there were moments that freaking melted my heart. I was all freaking over the place. I wanted things to work between them so bad, that when it didn't, I was a frightful mess and I'm sure there might have been some snot running down my nose from all the tears. Yeah...it was not pretty.


● ● ● ● ● ● ● ● ● ● ● ● ● ● ● ● ● ●

"This time when you walk away, I won't let you stay gone. This time, Wildcat, I'll follow."

● ● ● ● ● ● ● ● ● ● ● ● ● ● ● ● ● ●

Their journey was a long one and it was definitely not an easy one, but I loved it! Kona, that lovable idiot, was a possessive alpha and very caring which earned him a spot in my heart. Keira frustrated me but I still managed to really like her. They were both immature when they were young which makes sense with how old they were. So, it was great to see how much they had grown since they were nineteen and twenty years old. I was glad how I was really able to feel the connection that they shared. Which is why I was an emotional wreck from this roller coaster ride. I felt everything they were feeling. Their chemistry was explosively hot, something I highly enjoyed. I just plainly loved this book and I can't say it enough. I can't wait to read Ransom's book next. I am hoping it will be equally as amazing as this one. So, go ahead and give this book a read, if you haven't done so already. But, ye be warned, the angst is crazy high.





View all my reviews