♥♥♥ 4 STARS ♥♥♥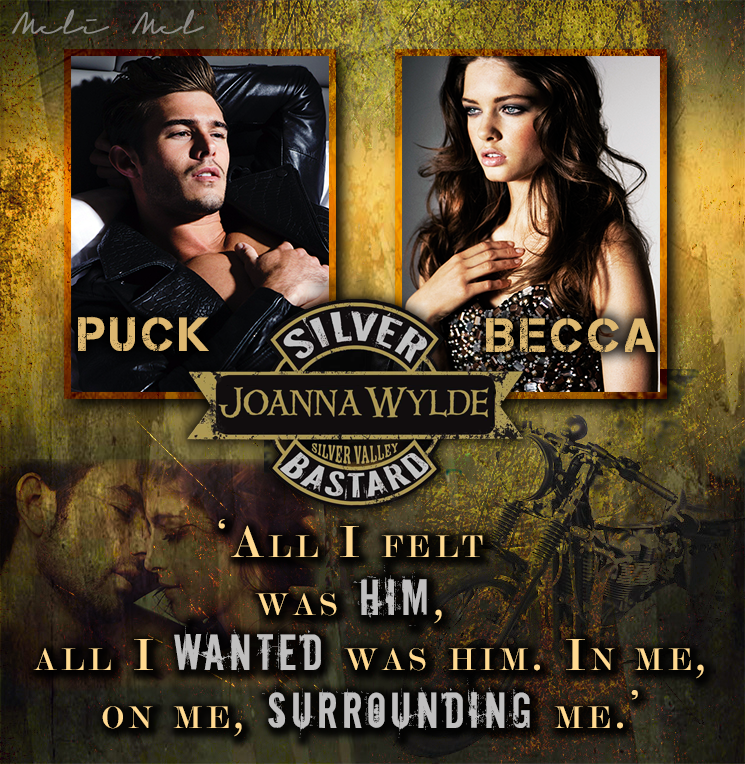 ● ● ● ● ● ● ● ● ● ● ● ● ● ● ● ● ● ●

"Meeting you was the best thing that ever happened to me, Puck. Things were fucked up and wrong, but you saved my life."

● ● ● ● ● ● ● ● ● ● ● ● ● ● ● ● ● ●


Puck Redhouse has served his time in prison and is finally out. Freedom is feeling great, especially when he is told he will officially be patched in as a Silver Bastard. At a party celebrating his and Painter's release, he sees a beautiful woman named Becca. There is something so fresh and so different about her, that it immediately attracts him to her. Unfortunately, not everything is as it seems. Becca is living in a less than ideal situation, and when Puck realizes what is going on, he takes her from California to Calup, Idaho.



● ● ● ● ● ● ● ● ● ● ● ● ● ● ● ● ● ●

"Do not think for one minute that I'm the kind of guy who does the right thing. That's not my style. I'm the guy who does what he wants when he wants, and trust me when I say I didn't do nearly enough to you that night to get out out of my system."

● ● ● ● ● ● ● ● ● ● ● ● ● ● ● ● ● ●

Five years later, Becca has made the most of the freedom that Puck gave her. She is going to beauty school, working as a waitress, and made some great friends that she considers family. To some it all up, she is living the life she never had in California, and she is going to ensure that her life will never be like the one her mother has. Puck and Becca haven't really spoken to each other since that incident that propelled Puck to save her. Becca doesn't know what to think of him, he kind of scares her, but her body craves him. Puck, however, has wanted her since the first. He knows she deserves better than he can give so has stayed away. When Becca proposes they become friends, Puck is ready to explode. It seems staying away is no longer an option. He's ready to claim what is his.


● ● ● ● ● ● ● ● ● ● ● ● ● ● ● ● ● ●

"Don't know when it happened, but somewhere along the line it did. They say love at first sight is bullshit, and they're probably right. But whatever I felt for you that first night? It turned into something real. I'm never letting you go."

● ● ● ● ● ● ● ● ● ● ● ● ● ● ● ● ● ●

Becca was a strong independent heroine. I liked her for the most part, sure she had her frustrating moments, but I did like her. I liked that she tried to do things on her own, and tried making the best of the little home she created for herself. Then Puck comes into the picture wanting to make her his and protect her. Becca knows all about the MC life and she is very hesitant to go back to it. But she wants Puck as well and doesn't want to let him go. She just doesn't think she can ever be his old lady. Puck was the overwhelmingly alpha hero. I loved him and how he truly cared for Becca. He could also be a total jerk, but he tried to be better for her. He was also quite sweet when he wanted to be. It's not hard to understand why it was hard to resist him. I loved the connection they shared which was quite explosive.



● ● ● ● ● ● ● ● ● ● ● ● ● ● ● ● ● ●

'Becca Jones might be my property in the eyes of the club, but the reality was that she owned me and there wasn't a damned thing I could do about it.'

● ● ● ● ● ● ● ● ● ● ● ● ● ● ● ● ● ●

This book is a spin off from the Reaper's MC series. If you haven't read the Reaper's MC series, well it isn't really necessary at the moment with this book. Some characters do make an appearance, so if you want to know their story then you probably should read it. The story line was one you would expect from a Joanna Wylde MC book, it was good. I liked both of the characters, flaws and all. I liked that the author researches her stuff to try to make the story as realistic as possible. I liked the steam in the book, but I did think it took a long while for these two to get together. I would have liked Puck to take charge a little early on because of that reason. Although, it was fun seeing Becca make him work for it. There was some drama that happened in the book, especially near the end, that broke my heart for Becca. No one deserves to be treated that way, especially by their own mother. I liked how it all concluded, and the epilogue was really great. Overall, it was not bad at all. I can't wait to read the next books.




View all my reviews