♥♥♥ 4.5 STARS ♥♥♥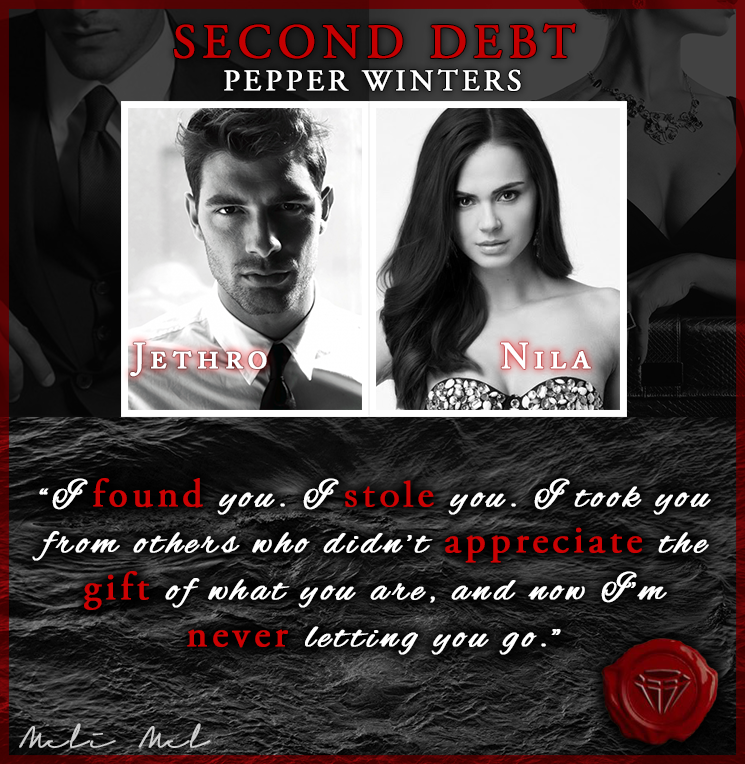 ● ● ● ● ● ● ● ● ● ● ● ● ● ● ● ● ● ●

"I feel what you feel. Whether it be a kiss or a kick or a killing blow. I wished I didn't, but you're mine, therefore, you are my affliction. So, I will feel what you feel, and I will live what you live. You won't understand what I mean. Not yet. But it's my best sacrifice. The only thing I can offer."

● ● ● ● ● ● ● ● ● ● ● ● ● ● ● ● ● ●


Second Debt is the third book of the series, and it picks up exactly where the last one ended. I had no idea what to expect in this book. I just knew that the crazy ride was going to continue, and boy did it.



● ● ● ● ● ● ● ● ● ● ● ● ● ● ● ● ● ●

'I'd become enraptured by my capturer. My tormentor. My would-be murderer. I only had eyes for him. My heart only beat for him. What does that say about me?'

● ● ● ● ● ● ● ● ● ● ● ● ● ● ● ● ● ●

Nila Weaver, had discovered a secret Jethro was keeping from her. She realized the one she confided in the most, was the same man that was messing with her. Nila wants Jethro to feel the pain of being deceived. However, in the last book, Nila's feelings for Jethro changed. We got to see another side to him. Nila tries her hardest to not want him, especially after finding something that made things real for her on Hawk grounds. Jethro is not willing to let her shut him out completely. The attraction between them keeps getting stronger. He wants to fight it, but he can't. And it seems Nila can't either. Yet this could all end when it becomes time to extract the second debt.


● ● ● ● ● ● ● ● ● ● ● ● ● ● ● ● ● ●

"You will let me inside you. And you will let me own you. You will, because we don't have a choice. You're inside me. Don't you get it? You're inside me and it's only fair that I'm inside you."

● ● ● ● ● ● ● ● ● ● ● ● ● ● ● ● ● ●

Holy cow! This series never seizes to hook me into the story. I liked seeing Nila working on Jethro's walls. Slowly but surely we continue to see more of who Jethro really is. Jethro has been bred by his family from a small child to be the man he has now become. He has a secret from his family, one that only his sister Jasmine knows. He is more than just a tool his family uses and manipulates, he's human. And somehow, Nila makes that human side come out, one the feels, yearns, and hopes. He wants Nila, plain and simple. While Jethro's walls go down, Nila works hard at trying to build her up. She doesn't want to accept that she is falling for the man the will ultimately kill her. Their connections is unavoidable, and consumes them both, they have no choice than to give in. And I don't blame them one bit because it was explosive.



● ● ● ● ● ● ● ● ● ● ● ● ● ● ● ● ● ●

"It's your initials that I bear. Your mark. Your brand. I may be born a Hawk, but I've been captured by a Weaver."

● ● ● ● ● ● ● ● ● ● ● ● ● ● ● ● ● ●

With each page that I read, the more engrossed in the story I became. It was just messing up my thoughts and feelings. I thought I would never fall in love with Jethro, but I totally did. My heart hurt at seeing his vulnerability come out. I hated seeing how caged he was by his family. Then my heart would melt at watching him fall in love. It was too much for my feels. I loved how strong Nila was. I honestly don't know how anyone can endure what she did and have any smidgen of sanity left. I loved the pace of the story and I can't wait to read what happens next. Because to be honest, it could be anything. Especially after that freaking cliffhanger. If you like dark and twisted reads, that keep you intrigued, then this one is it.





View all my reviews