♥♥♥ 5 STARS ♥♥♥






Since book one of this series, I have been hooked to it. I had been waiting for Ree and Dare's ending for quite a while. I was happy when that day finally came. And now that I have finished reading the final part, I can say I more than pleased with the conclusion to this series. It was beautifully done.




This is the final part of the Untamed series and I know I have said this before but, I just can't get enough of this enthralling story. This book started right where Wild at Heart left off. If you have read the previous book, you know how that cliffhanger left up hanging. Now, Dare will do anything in his power to get Ree back and out of harm's way. As well as get revenge on his father.






I don't want to give to much of the story away. It's really best you read every intense moment and twist that occurs. This series has been full of angst from the start, which is what I love about it, and this final part was no exception. I seriously had a hard time putting it down. Secrets are revealed that left me completely shocked.


● ● ● ● ● ● ● ● ● ● ● ● ● ● ● ● ● ●

"We are two parts of a whole," he said. "We always have been."

● ● ● ● ● ● ● ● ● ● ● ● ● ● ● ● ● ●

There is so many things that happened in this last part, and because of that, there was never a dull moment. My emotions were all over the place. I felt such anger, sadness, and happiness. These characters have grown so much since book one, as a result from all their ups and downs. But what I love about them in this one, is that they stay united and fight for their HEA.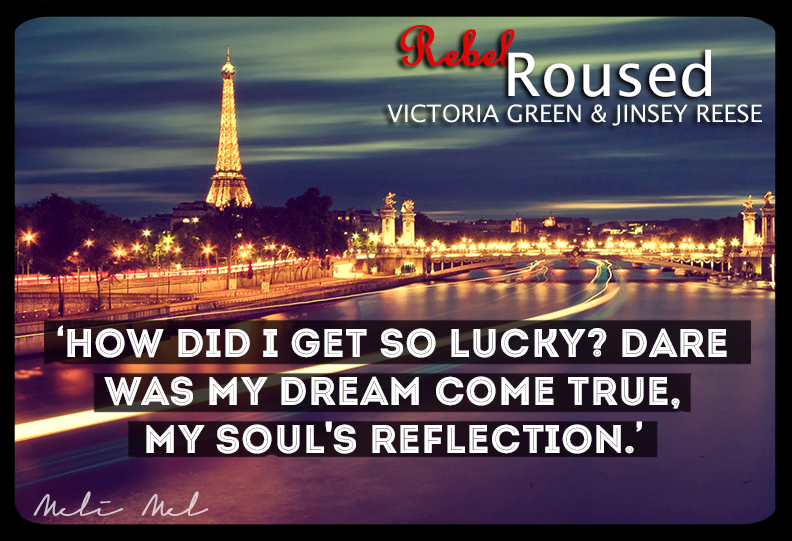 A great ending to the series. The writing was as wonderful as always. I don't know how these two authors do it, but they did awesome job with this story and these characters. The ending was beautiful. I was so happy for them. But I've got to say, now I am so intrigued by Archer. I feel like he needs and HEA too. I'll be keeping my fingers crossed. If you love angst in your steamy romances, than this is the series to read.




~ARC kindly provided by authors, Victoria Green and Jinsey Reese, in exchange for an honest review.~

View all my reviews