♥♥♥ 5 "DERRY FOREVER" STARS ♥♥♥



● ● ● ● ● ● ● ● ● ● ● ● ● ● ● ● ● ●

'This was not how I imagined our engagement would start off. Then again, we were Dex and Perry, and our relationship seemed to thrive on the universe being out of order. Either that or our relationship actually caused the world to turn upside down. It was hard to say.'

● ● ● ● ● ● ● ● ● ● ● ● ● ● ● ● ● ●

I LOVED this book. As soon as I hit the last page it was a bittersweet moment for me. I didn't know whether to cry or smile really big. In the end, I did both at the same time, which was not a very good look on me. It was an excellent end to an amazing series. Totally did not disappoint.




What can I say about this book?? I don't want to spoil anything about it because it was SO freaking good. And, I think it is best that you just read it yourself.



● ● ● ● ● ● ● ● ● ● ● ● ● ● ● ● ● ●

"I just need to look at you."

"Then keep looking, kiddo," he said. My heart may have melted like a pat of butter on hot bread. "Because I'm looking at you. I don't think I could ever stop."

● ● ● ● ● ● ● ● ● ● ● ● ● ● ● ● ● ●

The story in this one picks up exactly where the last book left off. Perry has seen Dex's brother Michael and wakes up at a park, after having passed out. Dex is missing, and now she has to find him without any real hint at where he may be, except she knows she needs to go to New York. Ada and Maximus go with her to help her out. But, soon things start to get really intense, and it seems all of them are battling against something stronger and purely evil than ever before. It seems like not all of them may be leaving New York alive.



● ● ● ● ● ● ● ● ● ● ● ● ● ● ● ● ● ●

"When you're my wife, I know I'll be a good husband so as long as I never let you forget that, that you, only you, just as you are, are my reason for being."

● ● ● ● ● ● ● ● ● ● ● ● ● ● ● ● ● ●

Perry is still one of my favourite heroines, one I could really identify with, many times during this series. I loved her and her attitude. She was tough and strong when she needed to be. That was still very present in this book, too. I can't believe how much she has grown since book one. I also really love my sexy Dexy!! *sigh* He is one of my top book boyfriends for being so real. I love that about him, as well as his raunchy and sarcastic sense of humour. Yes, he could be an asshole sometimes, not in this book, but in the past. Yet, I still love the guy because he could also be so freaking sweet. Together, they were just smoking hot and perfect. I am really going to miss Dex and Perry so much.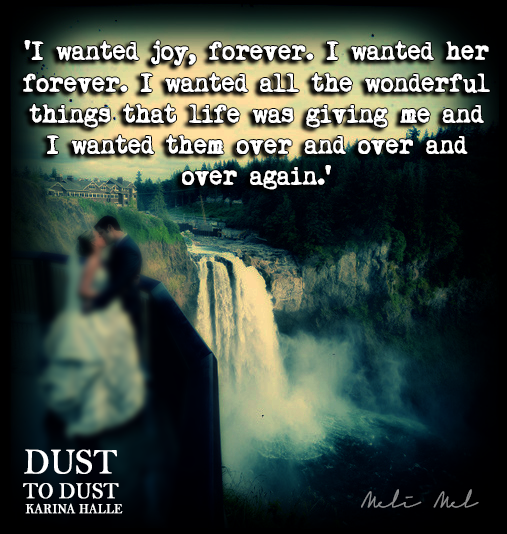 ● ● ● ● ● ● ● ● ● ● ● ● ● ● ● ● ● ●

"I love you. Always. Beyond death."

● ● ● ● ● ● ● ● ● ● ● ● ● ● ● ● ● ●

I loved the story line in this one, holy smokes was it terrifying!! It was also quite fast paced and intense. It had me totally captivated that I did not want to put it down. That also had to do with the writing which was really great. So much happens!! My emotions were everywhere. I was so freaking scared, happy, laughed, swooned, and burst into sobbing tears. I seriously loved it. I think it was an amazing end to the series. Now, I have Ada's book to look forward too, which I know will be awesome. I really hope we get glimpses of Dex and Perry in her book, because I am going to miss them so hard. *sniff sniff* I know for sure, that this will be a series I will be re-reading many times in the future. If you have not read this series yet, what are you waiting for?!? You need to get on it because it really is that good. I definitely recommend everyone give this a try. Thanks, Karina Halle, for creating such an unforgettable, kickass story and characters. It was a blast!!




View all my reviews