♥♥♥ 4.5 Romancelandia Stars ♥♥♥



● ● ● ● ● ● ● ● ● ● ● ● ● ● ● ● ● ●

'It isn't true love until someone gets hurt'

● ● ● ● ● ● ● ● ● ● ● ● ● ● ● ● ● ●

This story was so cute and entertaining. I loved the characters in this book!! It was just plainly awesome.




We have Sam who is pretty darn adorkable. He's tall and skinny, loves to read romance novels, and dreams about finding his very own Highland Laird. I loved this guy so much. He was super sweet, and even though he had his issues about his appearance, I didn't find that he annoyed me. I found him endearing and quite funny. I loved that he had a secret love of romance novels.


● ● ● ● ● ● ● ● ● ● ● ● ● ● ● ● ● ●

"I wanted to kiss you."
"Why?"
"I want to see you."
"You're looking at me."
"No, I mean I want to see you."
Sam's mouth fell open. Then snapped shut. Then fell open agin."See me?"
"Yeah."

● ● ● ● ● ● ● ● ● ● ● ● ● ● ● ● ● ●

Then there was Ian, who I will admit, I did not like too much in the beginning because he was such a big jerk. But, as the book continued, we got to see Ian change and become a better person. Then the inevitable happened, ISam fell for the Highland Laird sexy beast. He had me swooning so hard. I loved how he tried to win Sam's heart.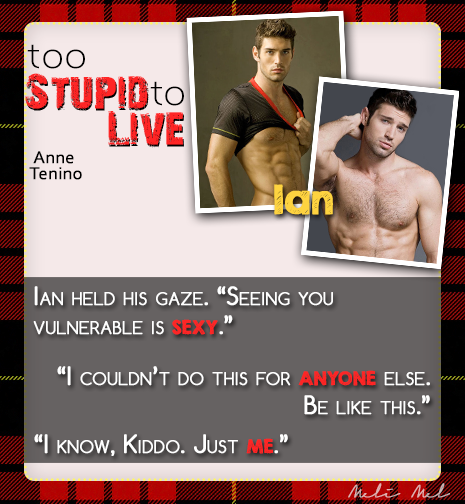 The steam in this book was really great. I loved the whole role playing scene. It was so freaking hot and kinky and I LOVED it!! And at the same time it was SO sweet that I melted. I loved the moments of vulnerability and openness between them. I loved the goofy nicknames between them.


● ● ● ● ● ● ● ● ● ● ● ● ● ● ● ● ● ●

"I am too, Sam. I'm crazy attracted to you, can't you see that?"
"Well, you think my mouth--"
"All of you. I just...I see you now."

● ● ● ● ● ● ● ● ● ● ● ● ● ● ● ● ● ●

This was a great, light, funny, and romantic read. I really enjoyed the secondary characters. Since I just found out the Nik and Jurgen have their own story, I will make sure to check that one out soon. I loved the silliness and the banter. Yes, it may have been a tad bit on the cheesy side, but I didn't care. In fact, that what I totally loved about it. That ending had me grinning so big. I was just so freaking happy. This was my first Anne Tenino book, and I will for sure be reading more from her.




View all my reviews