♥♥♥ 4.5 'Forever' Stars ♥♥♥



● ● ● ● ● ● ● ● ● ● ● ● ● ● ● ● ● ●

I'll make it happen
I would find a way. I would fix her. I would fix myself.

● ● ● ● ● ● ● ● ● ● ● ● ● ● ● ● ● ●

Holy moly...this story...it was just intense and really amazing. Not so much the events that took place, obviously, but the writing was really great. Loved it!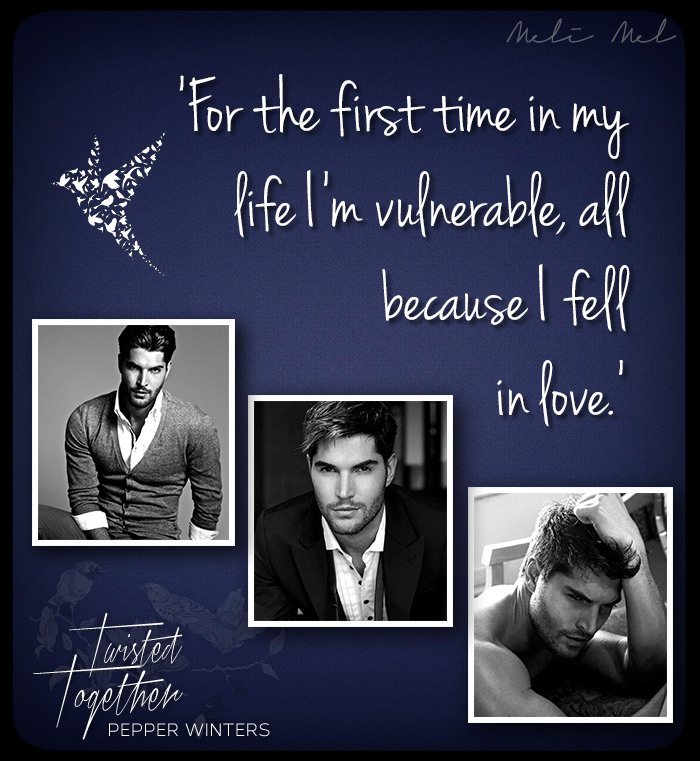 This book picks up where Quintessentially Q ended. I'm going to be honest, the beginning was slow and was hard for me to get into. I just felt like we had just gone through everything that happened in the first quarter, or so, in the last book. But, that quickly changed as soon as some of the dark stuff started happening. I cringed at a lot at all that occurred and got frustrated. It was all just so messed up. But this is what this story is known for. It wasn't all that way, there were some sweet heart melting moments at seeing them plan their future together.


● ● ● ● ● ● ● ● ● ● ● ● ● ● ● ● ● ●

'I thought I loved her before. But that was before I had any fucking idea what love really was. It was nothing, nothing, compared to what I felt now. I was possessed by her. Totally consumed.

She was my home. Plain and simple--the biggest investment of my life.'

● ● ● ● ● ● ● ● ● ● ● ● ● ● ● ● ● ●

I am still in a bit of awe of Q. I just couldn't believe the lengths he would go for his love of Tess. But that is what made me love him, his unconditional, soul deep love for Tess. We get too see how this love makes him vulnerable. It still melts my heart that he doesn't see all the good that is in him and that he isn't complete darkness. The things he had to do to help heal Tess...I just had no words. The whole thing was crazy. He really did everything in his power to protect Tess from any future harm. I didn't think it could be possible, but I fell more in love with him. He was perfect for Tess.




I was so impressed by how much Tess has transformed since the first book. Both characters are complex and have evolved, for sure, but I think Tess has the most. She has been in the darkness and has endured it all. She survived. I was blown away by her in this one. She willingly goes into the dark and faces her demons. She is so strong and loves just as fiercely as Q does. She also would do absolutely anything to protect Q. I just loved her in this book. She has become a new Tess that won't let anything get her or those she loves.


● ● ● ● ● ● ● ● ● ● ● ● ● ● ● ● ● ●

"I'm yours. I'm your monster in the dark forever."

● ● ● ● ● ● ● ● ● ● ● ● ● ● ● ● ● ●

This whole story was slowly building up to that last half of the book. It was so intense, I could not stop reading. It was dark, gruesome, and twisted. Even though you probably had to fight me to put this book down, there were parts I felt I needed to read it through my fingers covering my eyes because it was so disturbing. But, like I mentioned before, this is what makes this story. This is what is so interesting about it. This is also what makes this book not for everyone. The suspense was killing me and I enjoyed every moment of it.





The ending was the best!! I was so blissfully happy for them. They're journey was a long and brutal one. I loved that Franco and Tess became closer and how he played a bigger role in the story. I was so happy that their happily ever after had finally arrived. After all that went down since book one, they freaking deserved to have some happiness. These two were made for each other. They saw in one another what they didn't see in themselves. Such a perfect couple. I was glad she didn't overdo the cheese sauce in the ending. It was done in a way that just them. But now, I totally need a Franco and Suzette book! It just needs to happen!


● ● ● ● ● ● ● ● ● ● ● ● ● ● ● ● ● ●

'Tess was my complete circle. She was my home. My refuge. My best friend and partner. We'd found each other not just for this lifetime but forever.'

● ● ● ● ● ● ● ● ● ● ● ● ● ● ● ● ● ●

Overall, loved the book. I feel that in total, the last half of the book overshadowed the slowness of the first quarter. The writing was superb. It really had me captivated. A great ending to the series. I would definitely recommend this one to all those readers who enjoy dark reads like this.




*WARNING* Contains extreme violence, blood play, and rape.