♥♥♥ 4.5 "I forking LOVED it!!" stars ♥♥♥


● ● ● ● ● ● ● ● ● ● ● ● ● ● ● ● ● ●

"I'm in love with Brad."
"What?"
"Yes, I love Brad, and you're Brad's best friend. Or at least a close friend, and I thought maybe you could help me."

"...Then I guess we have an understanding."
"We do."
● ● ● ● ● ● ● ● ● ● ● ● ● ● ● ● ● ●

Just from the blurb alone, I knew I would really enjoy this book. I'm glad to say that this book didn't disappoint me...at all. I loved it!!




The story starts off with the womanizing journalist Kyle Manchester, having a few drinks with his best friend Brad. Kyle is a total player. He doesn't do serious relationships. He is quite successful in his career and likes the way things are going. Things change for him when Brad asks him to take out his girlfriend's sister for one date. Brad's girlfriend, Cassie, has a sister that is also his co worker and fellow lawyer, Lanie. Lanie isn't the most gorgeous woman ever, but she is very hardworking and a great person. Kyle is very reluctant to go on this date, but he finally agrees.


● ● ● ● ● ● ● ● ● ● ● ● ● ● ● ● ● ●

"I'm not like most girls, Kyle. I know what I want," Lanie answered simply.

"That's for sure. In fact, I'd say you're not like any other girl I've ever met, and just so we're clear, that's a compliment."

● ● ● ● ● ● ● ● ● ● ● ● ● ● ● ● ● ●

My first reaction to Kyle was that he was a big asshole. But, that only made things more interesting for me because I couldn't wait to see how he would grow by the end of the book. I loved how shocked and intrigued he was by Lanie. I was rubbing my hands in anticipation for what was to come. You see, Kyle had no idea that Lanie wanted to meet with him because she wanted his help. She's been in love with Brad since they met, unfortunately her evil sister Cassie had to ruin things for her. After an awkward yet entertaining conversation, that leaves Kyle wanting to know Lanie a bit more, he agrees to her scheme. He soon comes up with the idea of them being a fake couple in order to get Brad to notice her.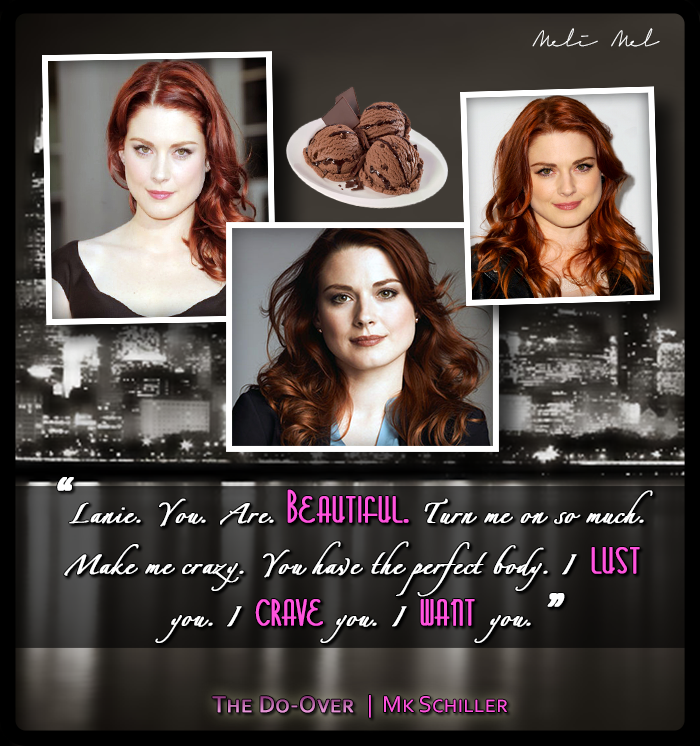 Lanie is a strong, independent woman who works hard for what she wants. She is kind hearted, quirky, and successful. But I will admit, I did cringe a bit at how self deprecating she could be. It really saddened me how she believed she could never attract anyone because of all the hurtful things said to her by all the women in her life, including Cassie and her mom. But, she was also really endearing to me. The fun chemistry between Lanie and Kyle had me hooked. I would giggle like a school girl, and smile like a dork at the both of them. It was just awesome. I loved seeing her shed the layers figuratively and literally. I liked how confident she became just being herself as the makeover continued.


● ● ● ● ● ● ● ● ● ● ● ● ● ● ● ● ● ●

'She deserved someone who put her on a pedestal.'

● ● ● ● ● ● ● ● ● ● ● ● ● ● ● ● ● ●

This whole story really called to my hopeless romantic self. I laughed at all the funny banter. I loved the mounting tension and feelings that these characters shared. I loved how it was written, the pace in which everything took place, and I loved the hero and heroine, both. I think all of us women have our Lanie moments where we put ourselves down, so you can really relate to her. I loved seeing their friendship bloom into more. My heart melted and swooned at Kyle's sweetness towards Lanie. They were just so perfect for each other that you couldn't help but root for them to end up together.


● ● ● ● ● ● ● ● ● ● ● ● ● ● ● ● ● ●

"Miss Lanie, you are the hero in my story..."

"...And even with all the do-overs you've had, you're my hero too."

● ● ● ● ● ● ● ● ● ● ● ● ● ● ● ● ● ●

Overall, I loved the crap out of this. It was a heartwarming romantic comedy with some good emotional moments. It also had some hot steam and silly funny moments. I loved Kyle so much...he was quite yummy, even if he was a jerk at times. I loved seeing him fall for Lanie, and the jealousy...LOVED it!! He went through one hell of a makeover while Lanie learned how to shine. It was awesome and can't stop saying how much I really enjoyed this one. You should read this one for yourself.