♥♥♥ 4 'I need me some Justice' Stars ♥♥♥


● ● ● ● ● ● ● ● ● ● ● ● ● ● ● ● ● ●

I am Justice Drake.
And I turn housewives into whores.

● ● ● ● ● ● ● ● ● ● ● ● ● ● ● ● ● ●


Okay, so if you're anything like me, that blurb got you good. I HAD to read it and find out what this man was all about. I started reading, and right off the bat I liked this guy named Justice Drake. Why? Because he was so damn honest that it was so refreshing and humourous, even. Which is why I couldn't get enough about his thoughts.



● ● ● ● ● ● ● ● ● ● ● ● ● ● ● ● ● ●

"This isn't me. This isn't the Justice Drake that people know and loathe. Yet, I don't want to be any other way with Ally. I like who I am when she's around. For once, I can just…breathe. I can just be."

● ● ● ● ● ● ● ● ● ● ● ● ● ● ● ● ● ●

Justice Drake is a teacher. He teaches housewives of the rich and famous how to become the whores their husbands crave in the bedroom. He has a set of rules by which he lives by. One of those is to NEVER get involved or attatched in any way to any of the housewives. He has a reputation to uphold. But this all changes the moment he sees Allison Carr. He fights the attraction, oh, how he fights it. But he can't help but want to keep spending time with her and making the most of it. I have got to say that Mr. Drake was so freaking SEXY!! I loved him. I even loved him when he became a love sick fool. I just loved him!! He was so smoking hot, and so yummy. But he also had some big secrets about his life.



● ● ● ● ● ● ● ● ● ● ● ● ● ● ● ● ● ●

"Ally may be Evan's by law, but she's mine by nature. And in a battle between lions, no one gives a fuck about what's lawful."

● ● ● ● ● ● ● ● ● ● ● ● ● ● ● ● ● ●

Allison Carr was one of the many housewives at Oasis. I really liked her alot. Sure, I would have liked her POV a few times during the book, but I was still happy with it ALL being in Justice's POV. Allison was funny, quirky, clumsy, had some attitude, was confident in her ideas yet self conscience with her body. She could be very accepting but also judgmental because of the life she lives. These women are all about appearances, gossip, etc. So, it's no wonder a little bit of that has rubbed onto Ally. For the most part, she was a kind hearted character and down to earth. I really liked her and don't blame her at all for not being able to resist Mr. McHottie Drake.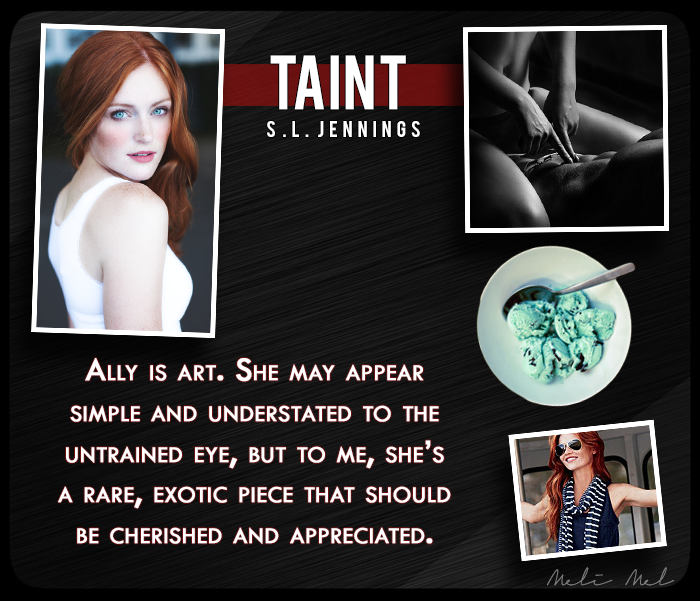 ● ● ● ● ● ● ● ● ● ● ● ● ● ● ● ● ● ●

Her scent surrounds me, digging its way into my skin and hair...into me. She's not only affecting me, she's infecting me.

● ● ● ● ● ● ● ● ● ● ● ● ● ● ● ● ● ●

I really enjoyed this story a lot. I will admit though, I did think this book was going to be more intense and dark. But instead, it was fun, steamy, and still very awesome. It did take a while for me to really connect with the characters, but the end I was glad I did. I mean I already liked Justice for making all those women so uncomfortable. I guess I'm a sick woman like he was because I really enjoyed all those scenes that shocked the housewives. I also was glad that Ally was not flawless, in fact, she was quite the opposite, which is what made her so relatable.


● ● ● ● ● ● ● ● ● ● ● ● ● ● ● ● ● ●

"If all we have is now, I know I'll never be whole again. And, God... it's worth it. You're worth it. I'll gladly stay broken for you."

● ● ● ● ● ● ● ● ● ● ● ● ● ● ● ● ● ●

Things got a lot more interesting near the end. In fact, I was so completely shocked! I had no idea that was the secret that Justice Drake was hiding. The ending was great but I did feel like it was missing something which is why it isn't a five star book to me. I needed an epilogue of something, but it was still very enjoyable. I loved all the references to pop culture because it added to the realism of it, and again made you relate more to it. It was a great unique story. It wasn't at all what I expected, but it was still really awesome. And I love the cover! Which reminds me, I'd like to thank S.L. Jennings for introducing me to my future hubby Hahaha!! ;) Anywhoo, this is definitely a book you should check out.