♥♥♥ 5 'I want me a KALE smoothie' Stars ♥♥♥


● ● ● ● ● ● ● ● ● ● ● ● ● ● ● ● ● ●

"You and I are in this together, one hundred percent..."

● ● ● ● ● ● ● ● ● ● ● ● ● ● ● ● ● ●

If you have read the previous book, then you know about Kale and Lucy. I had been dying to read their story. There was something about Kale that just peaked my interest and I needed more. Which is why I was so excited to dive into this one. And it did not disappoint.





Lucy and Kale have quite the history. They met when Kale went to Lucy's school for 'Bring your Daddy to school day'. Since then, they have been friends with benefits. As the months go by and with Kale's deployment date approaching, the closer they become. They both feel more for each other but doesn't think the other would be want to turn their relationship into something more serious. So, they both cowardly keep it inside. But when Kale goes off to war for nine months, Lucy meets someone she hopes will make her forget about her feelings for Kale. Little does she know that this just ends up spurring Kale into making her his when he returns.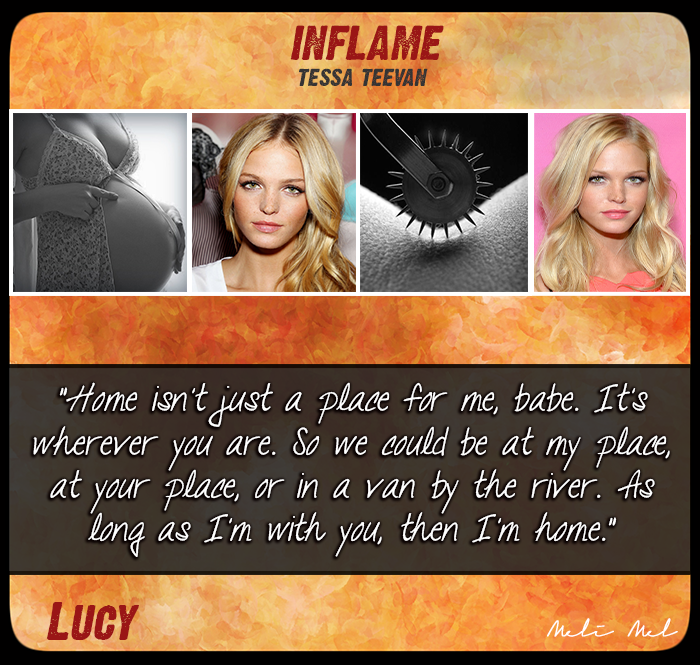 ● ● ● ● ● ● ● ● ● ● ● ● ● ● ● ● ● ●

"I just want you to know, Kale, that I'm happy it's you. It's always been you, even when I didn't want to admit it."

● ● ● ● ● ● ● ● ● ● ● ● ● ● ● ● ● ●

I really liked Lucy. She was sassy, sexy, independent, and confident. I loved how comfortable she was being herself. Yes, she could have a few moments of insecurity but who doesn't. What I love about her, was that when she makes a mistake, she owns them. She doesn't whine or complain, nor did she do anything that annoyed me. She could be quite direct which I found to be refreshing. I just really liked her.


● ● ● ● ● ● ● ● ● ● ● ● ● ● ● ● ● ●

"I'm a fool for you, Lucy. Always have been, always will be."

● ● ● ● ● ● ● ● ● ● ● ● ● ● ● ● ● ●


Kale, oh how he stole my heart! I LOVED him!! Just when Tessa has me thinking I can't possibly love her heroes more, she gives us Kale. He made me swoon hard, and smile so big. I loved how caring and selfless he could be. He was so protective of Lucy that he melted my heart. He was also at times possessive, and sexy. I loved his dirty mind. He was just plain delicious and I freaking loved him so much.


● ● ● ● ● ● ● ● ● ● ● ● ● ● ● ● ● ●

"All my time with you is the best times infinity, Kale Montgomery."

● ● ● ● ● ● ● ● ● ● ● ● ● ● ● ● ● ●

I loved everything about this story. It was a well done story of friends who become lovers. I enjoyed reading about how their relationship came to be. I just loved them as a couple because they fit so well together. I enjoyed the steam in this book, it was pretty damn hot. The tension and chemistry between them was scorching. I loved the whole story and thought it was done in an entertaining manner. I didn't even mind that their story was told in a long span of time, that's what I actually liked about it. It was all developed slowly. I think this is my favourite book of the series, as is my smoking hot Kale. That doesn't mean Jace and Knox won't have a special place in my heart. But still, Kale is my main man at the moment. I definitely recommend you give this one a read. It was awesome! And you can't miss out on Kale! Now, I am SO excited for the Wellington spin-off. I can't wait!!




~Arc kindly provided by author in exchange for an honest review ~