♥♥♥ 5 'Dark' Stars ♥♥♥



● ● ● ● ● ● ● ● ● ● ● ● ● ● ● ● ● ●

We broke each other, and the only way to stay whole was to entwine ourselves, gluing the jagged parts, stitching our souls into one.

● ● ● ● ● ● ● ● ● ● ● ● ● ● ● ● ● ●

Oh, dear. This book was WAY darker than the first one. It gutted me. Completely. I've read some pretty dark stuff, but this one...there was a point where I thought I wouldn't be able to finish it because my emotions were everywhere. But it was so good in a very dark way.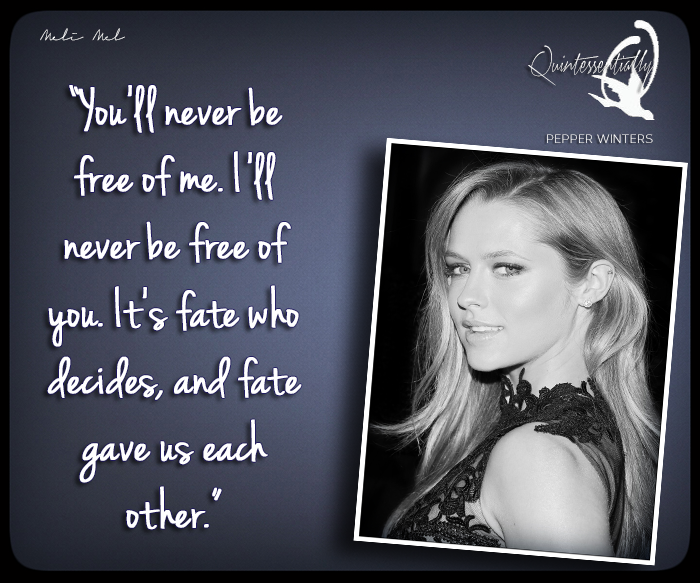 ● ● ● ● ● ● ● ● ● ● ● ● ● ● ● ● ● ●

"You're worth every fight. Every argument and bump in the road. I'll fight because I'm falling for you Q."

● ● ● ● ● ● ● ● ● ● ● ● ● ● ● ● ● ●

The book begins pretty much where the last one ended. I was eager to get going with this book. I became so addicted to Q and Tess's relationship. I wanted them to find happiness together. Yeah...that totally wasn't what happened in this book. Well, maybe until the VERY end. I was so happy because we got Q's POV this time around, and because of that I was able to really connect with him more than I had in the first.


● ● ● ● ● ● ● ● ● ● ● ● ● ● ● ● ● ●

You're my obsession, I'm your possession. You own the deepest part of me.

● ● ● ● ● ● ● ● ● ● ● ● ● ● ● ● ● ●

Here, Tess and are working with making a relationship work. They need to find a balance now that they will be a part of each other's lives. I loved seeing them in love, learning new things about one another. I loved they accepted, supported, and protected each other. It really warmed my heart. Just when everything is going great, something horrible happends. I. Was. Stunned. I wasn't sure that what as happening was real or if it was just a dream, and I really hoped it was the latter. But alas, it was not. This is where the story had a choke hold on me, I mean that quite literally. The stuff that occur in this book had me wanting to keep reading while trying to stay as far away as I possibly could.


● ● ● ● ● ● ● ● ● ● ● ● ● ● ● ● ● ●

I wanted to possess and obsess and consume. I wanted to be the air that Tess breathed. I wanted to be the water she drank. Keeping her alive all while wanting to kill her.

● ● ● ● ● ● ● ● ● ● ● ● ● ● ● ● ● ●

This was dark people, I mean, REALLY FREAKING DARK!! I cried my eyes out, I felt such revulsion, hate, desperation, love, and hope. This had my emotions in a whirlwind. There was a moment I thought I was going to break. There so many moments that I felt frustrated too. I felt that frustration mostly with Tess. I can understand how she felt and how she thought as a result of all the things that happened to her. But, I really wanted her to snap out of it. I struggled reading this, but like I mentioned before, I just couldn't put it down because I needed to know the outcome. I needed to see my poor Q and Tess to find that happiness I was wanting for them since the start. I really hurt me seeing how Q hurt, but it also hurt me seeing Tess change into a stranger.


● ● ● ● ● ● ● ● ● ● ● ● ● ● ● ● ● ●

'You're my esclave, my soul mate, each other we own, you're mind forever, my bird flew home...'

● ● ● ● ● ● ● ● ● ● ● ● ● ● ● ● ● ●

The steam in this book was done very well. It was a dark BDSM but it was still quite sexy because of Q and Tess's chemistry. In fact, almost every scene with Q and Tess had me captivated, no matter how painful it was to read. The writing was just fantastic. The story consumed me. I loved it. It really made me feel every crazy thing going on and as well as the feelings the characters were feeling. It was brilliant. I loved the ending. I was so freaking happy for them to have this little bit of light. I was left reading this book with a big smile on my face. This book would most definitely not be for every one. So, proceed with caution when getting into this story. I can't wait to read the final book to see how their lives pan out after such torturous events.




*WARNING* Contains extreme violence, blood play, and rape.