♥♥♥ 4.25 'Opposites Attract' Stars ♥♥♥



● ● ● ● ● ● ● ● ● ● ● ● ● ● ● ● ● ●

"Well, that's the oldest story in the book. You want what you can't have. Again, is it worth it? Does it hurt your heart or does it hurt your balls?"

● ● ● ● ● ● ● ● ● ● ● ● ● ● ● ● ● ●

This book was so heart melting and sweet but with a realism to it. It was about two people who were total opposites but when were put together, were so beautiful and amazing. I just loved it!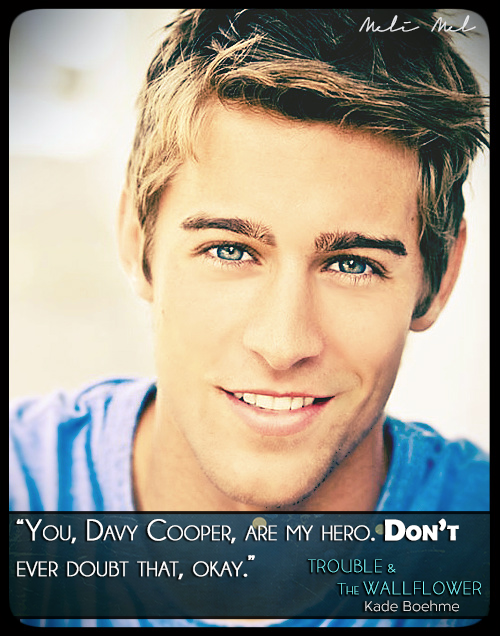 ● ● ● ● ● ● ● ● ● ● ● ● ● ● ● ● ● ●

"Stop. You are. You're fucking amazing and I love you. You're not some fucking plaything. You're so special to me. That's right, Davy. I don't know what you did to me." Gavin laughed and took Davy's face in his hands. "I love you, Davy Cooper."

"I love you too," Davy said with a shaky voice.

● ● ● ● ● ● ● ● ● ● ● ● ● ● ● ● ● ●

Davy is in his early twenties and is still learning to come out of his shell. He doesn't socialize well with others, he prefers being in the background observing everyone live their lives. This is because of his agoraphobic mother who kept him indoors for the majority of this life until the day she passed away. Davy just wants to be normal like everyone else, but he can't tell when someone is teasing or being serious with him. I loved Davy and his naiveté. He was genuine, sweet, caring, and kind. He was such an endearing and refreshing character. He is use to people using him or not liking him for his quiet nature which makes him feel worthless. Then here comes the confident playboy, Gavin. He comes into the ice cream shop that Davy works at and keeps flirting with him. He won't stop giving him his number. Davy knows about guys like Gavin, and he isn't planning on getting hurt by him. So, he keeps rejecting him.


● ● ● ● ● ● ● ● ● ● ● ● ● ● ● ● ● ●

"Gavin, you were always strong."

"Maybe. But you made me better. Never doubt it," Gavin said before kissing both corners of Davy's mouth.

● ● ● ● ● ● ● ● ● ● ● ● ● ● ● ● ● ●

Gavin has never had to work so hard to get a guy to hook up with him. There is something about how shy and how easily Davy blushes that is so sexy to him. That, and that Davy is just hot without realizing it. Gavin has been coming in for months trying to get Davy to go out with him, and he isn't quitting until he says yes. After, Gavin "saves" Davy, he finally agrees to go out with him as friends. I just loved seeing this friendship build and seeing Davy become comfortable with Gavin and his friends. Gavin was still a jackass at times, which pissed me off, but he finally opened up and showed the real him by the end of it.


● ● ● ● ● ● ● ● ● ● ● ● ● ● ● ● ● ●

"I know it sounds crazy. It's just that I'm so used to it only being about sex--hard and fast--and when my brain realized I could do it slow and different with you, I realized that maybe I had real feelings for you."

● ● ● ● ● ● ● ● ● ● ● ● ● ● ● ● ● ●

I just loved how this relationship evolved as the book when on. I loved how each day Gavin and Davy seemed to become closer, and revealed more of themselves to each other. This one wasn't full of angst that had you at the edge of your seat, but it still had me captivated, nonetheless. I wanted to see how they would continue to grow. I hurt me to learn about Gavin and Davy's pasts. Gavin had a horrible mother who didn't care about him or the hurt she caused him. I felt so bad for him and I completely loathed the woman. On the bright side, Gavin had his awesome grandfather/best friend Ray in his life who supported him. He really was the best grandpa ever. Then there was Oliver who was so adorable. Loved him!


● ● ● ● ● ● ● ● ● ● ● ● ● ● ● ● ● ●

"You sure you're up for this? Looks like these Walker men are trouble."

Davy smiled and looked over at Gavin, who was blushing. "Yes, ma'am. Turns out, I love trouble."

● ● ● ● ● ● ● ● ● ● ● ● ● ● ● ● ● ●

Overall, this story was about two totally different people working hard on trying to have a relationship that will last. It was wonderful and I enjoyed it very much. I did feel like some parts were a bit slow. The ending was awesome. I was so happy with it and for them. Even though, there was a bit of sadness mixed with it, I still loved it. This was my first book from Kade Boehme and now I am looking forward to reading more books from this author.