♥♥♥ 4.25 STARS ♥♥♥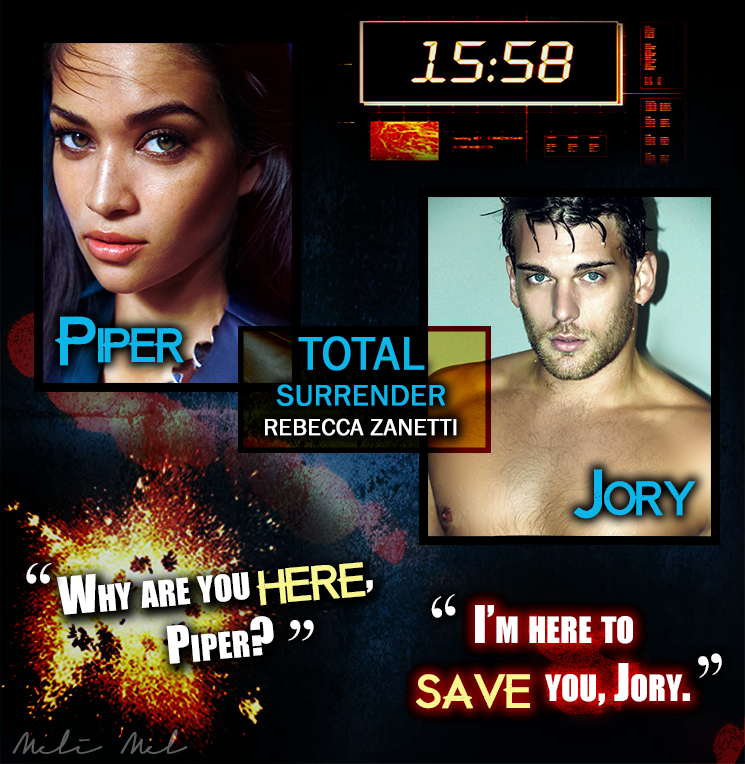 ● ● ● ● ● ● ● ● ● ● ● ● ● ● ● ● ● ●

"One taste, Piper. Before I die, one taste of you. I'm not going to heaven, but maybe I could have a taste before I go."

● ● ● ● ● ● ● ● ● ● ● ● ● ● ● ● ● ●


Jory Dean is the youngest of the Dean Brothers. He was thought to be dead since the beginning of this series. When it was finally revealed that he was in fact alive, I could not wait to dive right in. He has been a prisoner of Dr. Madison and the Commander's for the entire time. Jory's brothers are hard at work in trying to save him. But time is running out, as a there is only a week left until the chips implanted by their spines detonates causing all of them to die. Unfortunately an incident that put him into a coma, is what caused his chip to disconnect. The Commander needs Jory's chip back online so he brings in his daughter, and hacker genius, to help him.



● ● ● ● ● ● ● ● ● ● ● ● ● ● ● ● ● ●

"You need a good guy, one who knows the difference between right and wrong. One who is spontaneous, protective, and would kill or die for you."

● ● ● ● ● ● ● ● ● ● ● ● ● ● ● ● ● ●

When Piper sees Jory for the first time, he is in a cell. The Commander feeds her lies as to why Jory is held there, and since Piper is over the moon that her father seeked her out and wants her help, she believes him. The more time she spends with Jory trying to work her way to his chip, the more she starts to doubt everything her father tells her. Jory is a smoking hot alpha, just like the rest of his brothers. So, I can't blame her for not being able to resist this badass fighter. Meanwhile, Jory has accepted his fate and knows he will most likely die. That doesn't mean he won't do anything in his power to save his brothers Matt, Shane, and Nate. He needs Piper's help, so he tries to convince her. She gets stuck in the middle not know what to believe. All Jory wanted was some assistance, he never imagined he would end up falling for the Commander's daughter.


● ● ● ● ● ● ● ● ● ● ● ● ● ● ● ● ● ●

"I love you, Piper. All of you. The smart, the sweet, the lost. Everything you are and whoever you'll eventually become."

● ● ● ● ● ● ● ● ● ● ● ● ● ● ● ● ● ●

This book was a crazy suspenseful ride. I had a real hard time putting this one down. There was some great action, some awesome angsty moments, and of course some scorching hot romance. I loved it! I loved having all the brothers together in this final book. I loved the fast pace of it all, which is what I have come to expect from this series. I loved Jory! He was so damn sexy, I mean, seriously! Overall, I was very pleased with the conclusion of this series. I love the Dean Brothers and I will miss them. I loved the ending, especially the bits we get of how each brother is doing. It was really heartwarming. If you have yet to read this romantic suspense series, than I highly recommend this one!





View all my reviews