♥♥♥ 4.5 "PICNIC" STARS ♥♥♥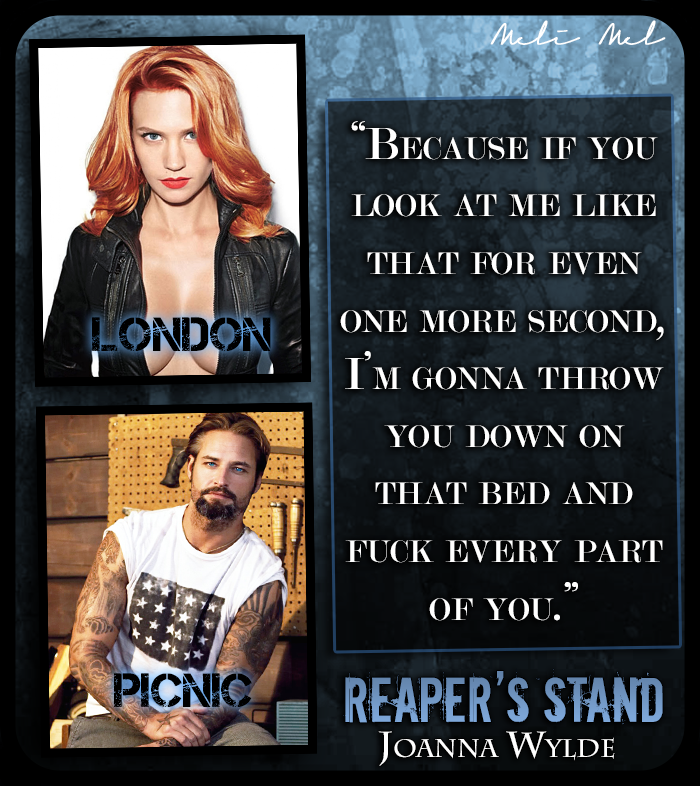 ● ● ● ● ● ● ● ● ● ● ● ● ● ● ● ● ● ●

"There's something about you, London, something that's real in a way I can't even begin to explain. I like it and I want it(...) So far as I figure, that makes you mine."

● ● ● ● ● ● ● ● ● ● ● ● ● ● ● ● ● ●

After, finishing the previous book, I could not wait to read this one. Then I read the teasers for this book, and I about lost it because it was so good I couldn't wait a second longer. And when the book finally came out, I locked myself in room, turned off any distraction and dove right in. It was awesome!




London is a thirty eight year old woman and owner of 'London's Cleaning Service'. She knows who the Reaper's are because she happens to work for them. She has no idea what exactly it is they do, but she and her crew have done enough cleaning for them to know it isn't all wholesome. She isn't interested in finding out more about them, she just wants to do her job and earn enough money to take care of herself and her eighteen year old cousin Jessica. But being a 'mother' to Jessica has been tough, due to all the issues Jessica now has from her mother using drugs while pregnant. Because of this, London doesn't go out much. Everything changes for London when she finds out Jessica is hanging out at the Reaper's MC armory. She goes in search for her and ends up owing the President of the Reaper's MC


● ● ● ● ● ● ● ● ● ● ● ● ● ● ● ● ● ●

'I don't know what bothered me more, his inherent scariness or the fact that his scariness sort of secretly turned me on.'

● ● ● ● ● ● ● ● ● ● ● ● ● ● ● ● ● ●

Reese, a.k.a. Picnic, is the President of the Reaper's Motorcycle Club. If you read the last book, you know that Picnic has two daughters, Em and Kit, and that he is a widow. Since the death of his wife, he has no interest in dating or ever having an Old Lady again. He definitely prefers one night stands. Since hiring London, he has been attracted to her. But to not mess up their business relationship he has not pursued her. Now that she owes him, it becomes harder for him to stay away.


● ● ● ● ● ● ● ● ● ● ● ● ● ● ● ● ● ●

"Just let me be strong for you for one minute, okay? You've held on for a long time sweetheart."

● ● ● ● ● ● ● ● ● ● ● ● ● ● ● ● ● ●

London is completely attracted to Picnic, no matter how hard she tries to deny it. Soon, she throws caution to the wind. If one night is all she will have with Picnic that is more than enough. Events occur right and left causing them to inevitable be together. Soon, it becomes so much more and Picnic doesn't know if he can be a one woman man again. I loved both London and Picnic. London was a tough independent heroine. Although at first I didn't know what to think of her, by the end, I really liked her and thought she was perfect for Picnic. Picnic was über hot!! He scared the crap out of me at times but also made my heart melt with how tender and sweet he could be. Plus, I loved his dirty mouth.


● ● ● ● ● ● ● ● ● ● ● ● ● ● ● ● ● ●

"Fuck, babe. You can have whatever you want."

I squeezed him tight, because I already had what I wanted.
Him.
This.
Us.

● ● ● ● ● ● ● ● ● ● ● ● ● ● ● ● ● ●

This series is one of my absolute favourite. I think Joanna Wylde does an amazing job in showing how the MC life works. And this book was no exception. There is some crazy bloody scenes that occur, and I loved every raw moment of it. There was a perfect balance between the relationship story line and the MC story line. I loved both very much. The steam was through the roof, as you come to expect from a Joanna Wylde book. And all the MC drama was highly entertaining. I really loved it. And that teaser at the end was amazeballs. I cannot freaking wait to read the next book, as well as the first book of the Silver Valley Series.




View all my reviews