♥♥♥4.25 Heartwrenching Stars ♥♥♥



● ● ● ● ● ● ● ● ● ● ● ● ● ● ● ● ● ●

'I was stronger with Ben. Always had been. There would be people who didn't understand it, either the idea of two men together, or the power exchange we subscribed to. I didn't care what anyone else thought. The plain truth was I was a better person with him by my side.'

● ● ● ● ● ● ● ● ● ● ● ● ● ● ● ● ● ●

Oh, dear. This book...this book made me feel all kinds of feels. This was brutal to read at times because of the events that took place, and to the characters it happened to. I hate where the story went, but loved how well it was written.




I absolute LOVED Safeword the previous book in this series. And while I enjoyed this one--well, as much as a book like this can be enjoyed--I didn't love it like the last. Still, I liked the fact that the author brought something like gay male human trafficking to light. I would be lying if I said I wasn't hooked to the book. But, there were definitely moments I cringed, and teared up because it was just too much. I'm only glad things weren't more descriptive, or else, I don't think I would have been able to handle it at all.






If you read the blurb, you know that Myah, my favourite female character, has disappeared. She had been kidnapped due to her involvement with a previous case when she was working in Chicago. Myah goes through a horrific ordeal. I felt so much pain for her I just wanted it all to end. The tone of this book was definitely a lot darker than the previous books in this series. It actually affected my enjoyment of the hot scenes a bit because of it. I couldn't enjoy the steam when I just read the torment Myah was going through. The only scene I was able to enjoy was the threesome scene, the others, not so much.


● ● ● ● ● ● ● ● ● ● ● ● ● ● ● ● ● ●

"I've seen the way you are together. He's your protector, and you're his purpose. He's your glue and you're his art."

● ● ● ● ● ● ● ● ● ● ● ● ● ● ● ● ● ●

Ben, I still love so. Freaking. Much. He did not disappoint me in this book. I love how selfless and caring he is with Gavin and with any person that means something to him. I loved that that chemistry between him and Gavin was still very much present. I loved the few moments of sweetness they shared. Ben is seriously one of the best book boyfriends.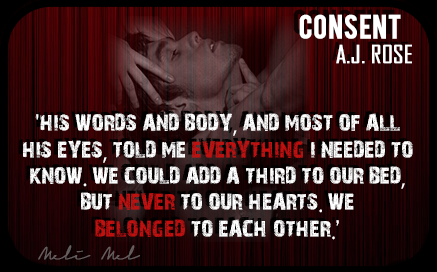 I was hoping for a lot more in terms of the relationship part between Ben and Gavin. While we did get some--including a ménage scene that was pretty damn hot, which was one of the scenes I actually did like--I guess my inner romance nerd wanted more romance. I didn't get as much as I was hoping. It did get sweeter at the end but, it wasn't enough for me because time went by and I didn't get to experience it with them. However, there were a few moments here and there that completely melted my heart. And I loved seeing Ben and Gavin become so much more stronger as a couple after that ménage scene


● ● ● ● ● ● ● ● ● ● ● ● ● ● ● ● ● ●

"I love you. You're my anchor. I don't know what I'd do without you."

"I love you, too. And you don't have to find out. Because I've got your back, Gavin. Always."

● ● ● ● ● ● ● ● ● ● ● ● ● ● ● ● ● ●

The story line was a lot more solid in this book than those in the previous ones, but like I said, it was also much darker. I hated everything that happened to Myah. She totally didn't deserve to go through any of that. After going through that hell, I have to say I admire her for her strength and determination. She is one of the best female characters. Ever. The best part of the book for me was the Epilogue when things finally became a bit more happy. It was quite bittersweet to read. I was happy with their conclusion, I just wish it would have been more longer. Overall, despite it being a tough book to read, it was good and very well written. Now, I'm in dire need of a fluffy book to read.




***WARNING: Book contains scenes of violence and rape.***

View all my reviews